Controller for 630W LED grow light - Pro grow model S - Light not included
Useful if you have a lot of lights
$350.00
RRP $399.00
SAVE $49.00 (12%)
or 4 payments of $87.50 with

Info
Sold Out - Backorder Available
This is usually in stock at the supplier - select "backorder" and we will send when stock arrives (usually 1-3 days) you will be contacted with ETA and tracking. Contact us for more information.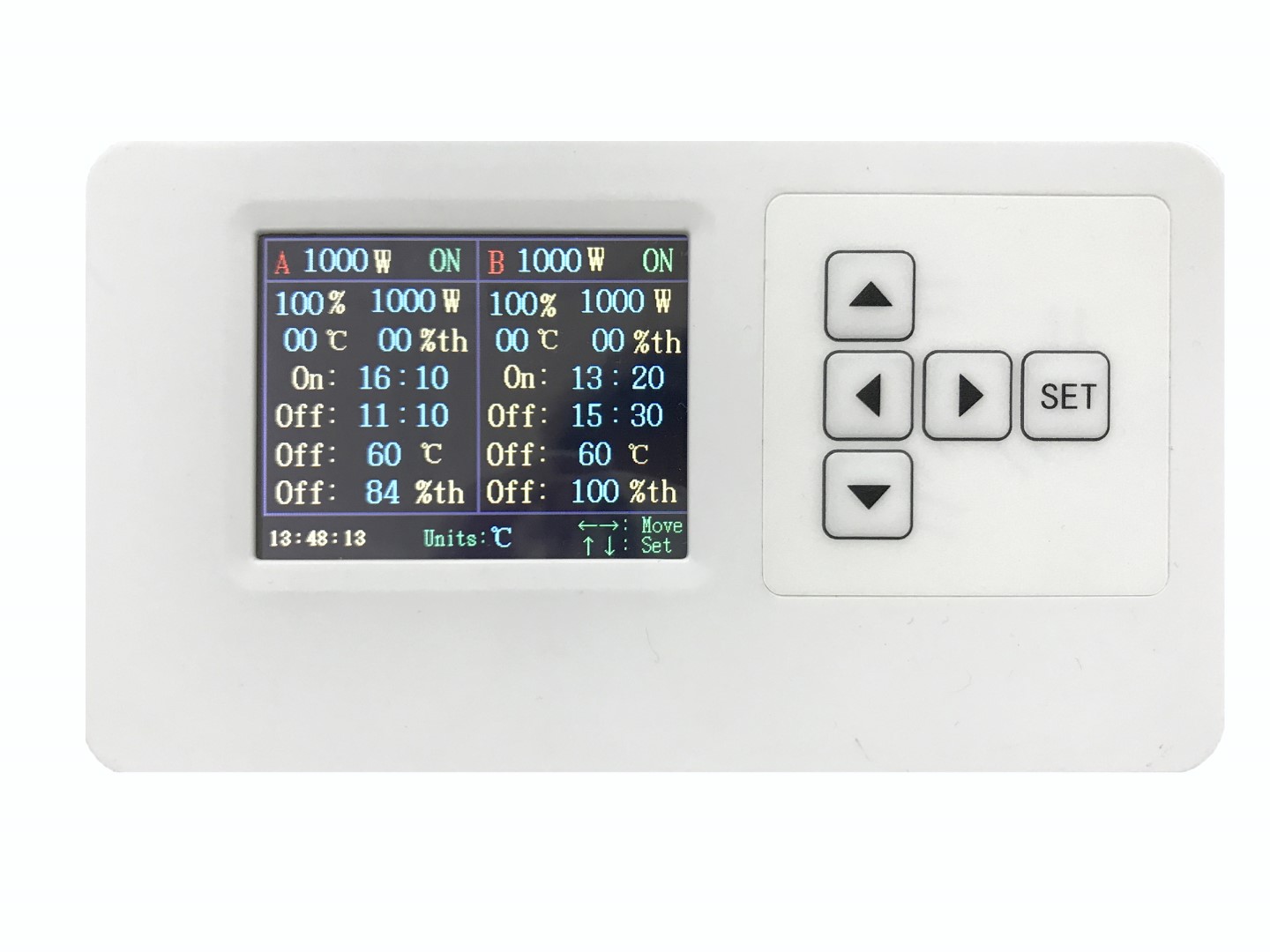 Controller for 630W Progro light is available
timer for up to 200 lights
auto temp and humidity dimming
auto shut down
sunrise and sunset colour dimming
dual room 50 fixtures per side on 12/12 hour
So here are some selling points with some considerations
in red
The new 0-10V Pro grow Smart Controller for LED S Model gives you advanced control over your LED fixtures.
It replaces traditional timers (a bit expensive for a timer which will do the same job) and includes many advanced features:
0-10V is safe to use and easy to install (RJ-14 Cables)
Not always a great idea to hang more cables - using timers will have less cables dangling about in the growing area. Of course you will zip tie them neatly...
When using controllers in the past we found problems occasionally - and if 1 or more cables would fail, you needed to rip each cable out to find out why one or all of the lights aren't working as they should. In these cases usually everything is neatly zip tied etc it takes a lot of patience to take apart and fix again.
This started my general questioning of Controllers and the advantages they should provide...
Control up to 100 x 630 W fixtures with a single room • Control up to 50 x 650 W fixtures with dual rooms
This might make sense if you have a lot of units
If you have LESS THAN 6 units I think its a bit of a waste of money compared to having 1 or 2 timers
Also if you have a standard supply (2400W to 3600W) and you draw 630W per unit (e.g. 10x630 lights is 6,300W) you need an electrician to put in a larger electrical supply from the fusebox and you could have introduced switching at the fuse box - installed by the electrician
Auto dim and auto shutdown function No need for this as very little IR heat from LED's to hurt the plants if temperature goes up - plants in this case will be hot whether lights on or off
Sunrise/sunset feature Waste of time - reduces yield to turn lights up and down
50% to 100% light dimming capabilities.
Dimmer built into light already so you'd only dim for vegetative plants or young cuttings.The light is way too much for young plants generally, but nice to switch to 50% on their first day under the light.
Takes less than a second to switch it over to another power setting.
2 x Temperature/humidity sensors (RJ-14 Cables) No need for this as very little IR heat from LED's to hurt the plants if temperature goes up - plants in this case will be hot whether lights on or off

Phone to controller Bluetooth capability No advantage - do you need to switch them on or off remotely?
Still happy to supply a controller to anyone - Just don't want people thinking it is absolutely essential.
* we don't go below our cost price (suppliers sometimes clear out stock below cost)
(630wledcontroller)
| | |
| --- | --- |
| SKU | 630wledcontroller |
| Shipping Weight | 15.0000kg |
Be The First To Review This Product!
Help other Hydrocentre Hydroponics users shop smarter by writing reviews for products you have purchased.
---
We Also Recommend
---
Others Also Bought
---
More From This Category