Scarid fly larvae / Fungus gnats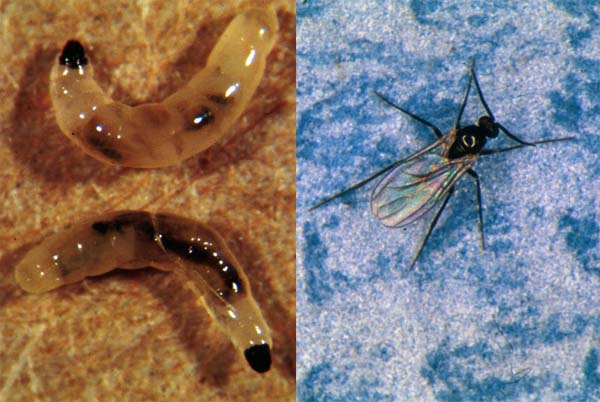 There is an abundance of information on Scarid Fly Larvae and the damage they can do when eating a plant's roots. Plants look lethargic and begin with symptoms of root rot like wilting or yellowing or nutrient deficiencies like twisted leaves and discolouration of the foliage. We don't really feel the need to write a lot about them, just how to fix them.
Diagnosis
the adults are a small black fly - you would likely have seen a few.
larvae like like little worms/grubs and if you flush the media you may see a few if you look carefully.
plants roots are failing so plants will be 'sick' slow maybe wilted and twisted.
adults lay larvae in wet media to protect them from preditors
How to get rid of Scarid Fly Larvae
create a dry barrier at the top of media with perlite or growstones/soil aerator/gnatnix so adults stay away. About 30-50mm
Inside - cover any inlet with a fabric that will catch the adults and seal your room
Outside - make another area nearby more attactive - wet slices of potatoes will attract them - wetter soil nearby that is wetter than your growing media...
sticky traps can catch a lot of adults
Eradicator (NO LONGER REGISTERED FOR USE) is a drench that will suffocate small larvae and is not toxic to plants - preventative doses every 30 days should work
Scarid fly drench (NO LONGER REGISTERED FOR USE) - made from Neem oil will work - don't flush straight away but flush at some point
Gnatural - (NO LONGER REGISTERED FOR USE) bacteria that attack the larvae
Scarid 10 is used as a spray on the top of the media - it provides around 7 days protective barrier like a surface spray against adults landing on the media
Success Ultra is used as a drench - bacteria based - not dangerous to humans.
mite rid (NO LONGER REGISTERED FOR USE) is used as a drench as well - based on Neem oil
Plant aerosol sprays will be effective on adults as aerosol droplets are very fine, and tend to float towards the flying insects due to the electrostatic attraction (the beating of their wings) and should be non-toxic to plants - BUG KILL IS NO LONGER AVAILABLE
Secondary effects
Most of the time root damage will end up becoming root rot using one of the following treatments will help

using a systemic fungicide like rot guard will kill any infection in the plant. Rot Guard replaces Fongarid.
A sanitiser like Hydrosheild will help kill off pathogens on contact in the old media
Beneficial organisms and enzyme products like Drive will help reduce pathogens, break down dead roots and stimulate new roots.
---